All good things must come to an end eventually, but BoJack Horseman didn't necessarily need to. At least not yet.
The financial workings of Netflix remains a mystery to many, as it is willing to greenlight both deserving projects that cost a little more than they should (like "The Irishman" and the "Dark Crystal" reboot), as well as an absolute sea of projects that go nowhere.
Many raised their eyebrows at the cancellation of their Marvel shows, though with the launch of Disney's own streaming service, it was inevitable that the Mouse House would want all of their original IPs on platforms they control. There's no reason to help a competitor after all.
But then there came the cancellations of perfectly good shows, starting with "Orange Is The New Black," "The Santa Clarita Diet," "Designated Survivor," and now "Anne with an E". When Netflix can still greenlight what seems like an endless amount of season ones for underwhelming shows, fans started questioning if Netflix was cutting in the right places.
One thing I'm certain of is that they were wrong to cancel "BoJack Horseman."
Season 6 Part 2 sees BoJack (Will Arnett) finally own up to and face the consequences of his poor life decisions. The half season starts out with BoJack serving as a drama professor at Wesleyan University in Middletown, Conn., where he clings to his last shred of credibility as an actor. And he's good at it, and legitimately earns the respect of his students.
His relationship with his sister, Hollyhock (Aparna Nancherla), who goes to the college, is still on the the rocks and is about to hit a critical mass. Series mains Diane Nguyen (Alison Brie), Princess Caroline (Amy Sedaris), Judah (Diedrich Bader), Todd (Aaron Paul) and Mr. Peanutbutter (Paul F. Tomkins) are all in vastly different places, and are beginning to move on from their tight social circle around BoJack that we've seen grow and depreciate over the course of six seasons. In many ways, BoJack's story is one of friends growing apart due to the natural order of life and time, as while BoJack himself has grown a lot since Season 1, so too has everyone else around him.
Spoilers BoJack goes to jail this season. He loses everything material he has clung to, including his house, his job, his career, and his dignity, and he finally pays for his sins. And he becomes a better person because of it.
BoJack's character makes the same mistakes over and over again, despite learning something each time, because up until the second part of Season 6, he never faces any real consequences. He loses gigs, for sure, and friends, but it's inconsequential, as there's always another opportunity lined up for him, and at the end of the day, he has his mansion and money to go back to. BoJack is a character who had to lose it all to improve. Spoilers
BoJack ruins a relationship with someone close that he has no hope of ever getting back. And he has to carry that with him going forward, which would make a BoJack Season 7 very interesting. After what goes down in Season 6, Part 2, the shows begs a vital question, as if enticing Netflix to revive the show: What happens next?
BoJack has one of the most profound character journeys of any animated character, and he is surrounded by a cast as colorful and human as he is.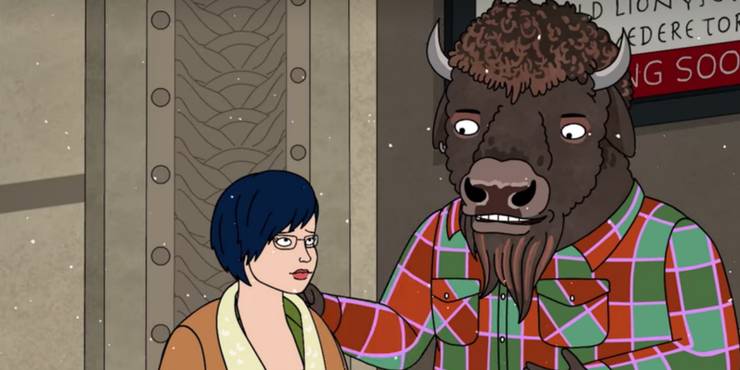 In Season 6, Part 2, Princess Caroline starts a family. Diane moves to Chicago and starts to learn how to write things people want to read, while dealing with her inner demons. Todd goes through perhaps the largest transformation, as he finally learns how to stand on his own two feet and live independently, and he finally confronts his parents and attempts to repair years of damage. But BoJack, in typical BoJack fashion, steals the show, spiralling to absolute rock bottom, only to realize that life is not as bad as he thinks it is, and death in infinitely worse.
In many ways, BoJack is about a man-horse who finds a reason to keep living, and enjoy life. It comes with powerful commentary on fame and celebrity, and how we all bear the baggage of our parents. It explores themes of time in an intimate way, as we see characters rise, fall down, and decay. But the happiest characters in BoJack are those that finally feel comfortable in their own skin, and as far as finales go, that's not a bad place to end the show.
Still, it's very clear that the show's producers have more BoJack stories to tell, and they wanted to tell Season 6's arcs over at least a season more, and as a result, Season 6 Part 2 feels inevitably rushed, though the show handles having to rush through its major plot points in the best way possible via time jumps.
Netflix was wrong to cancel "BoJack Horseman." It's one of the best adult shows of all time, and while every show inevitably wears out its welcome, BoJack was nowhere close to that.
"BoJack Horseman: Season 6 Part 2" gets an 8.5/10